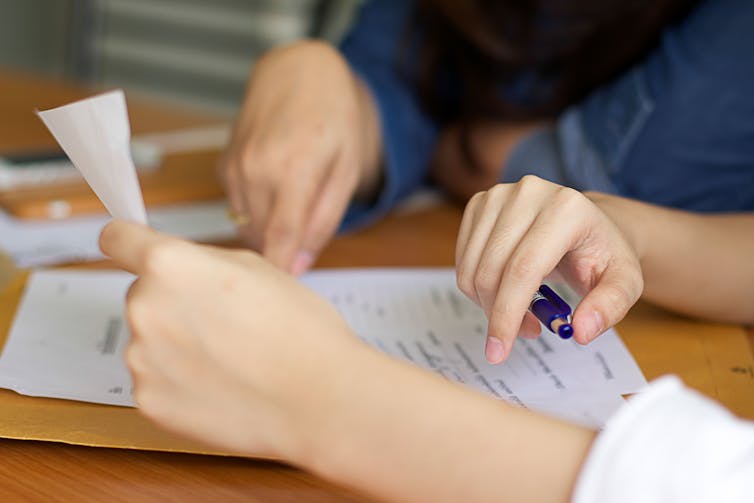 Michelle Farr, University of Bristol
Controversial changes to disability welfare benefits have left many ill and disabled people unable to access the support they need. In his speech to the Labour Party conference, the party's leader Jeremy Corbyn, spoke of how benefit assessments had "created a 'hostile environment' for disabled people".
My own recent research demonstrates how free advice services are an essential lifeline for ill and disabled people. Yet advice services are under threat from continued austerity and local council funding cuts, even though advice saves money in the long term by preventing escalating debt, mental health issues, self-harm, suicide and homelessness.
The continued rollout of Universal Credit, which is costing more and more, has increased demand for advisory services. But advice services could soon face further funding pressures. The County Council Network recently predicted an additional £1 billion of savings may be required from council budgets in England by 2020, which it warned could lead to "unpalatable cutbacks".
For our research on the social impact of advice services, my colleagues and I interviewed 80 people who needed help from a Citizens Advice Bureau in the west of England. Around a quarter of those we spoke to needed advice for Employment Support Allowance (ESA), Personal Independence Payments (PIP) or Disability Living Allowance (DLA). Under current plans, ESA is being rolled into Universal Credit, while PIP and DLA is paid alongside it for those eligible for additional support because of their illness or disability.
In the 22 disability benefit cases we analysed, advice led to increases in people's income in 18 cases, with three unsuccessful appeals, and one case ongoing when our research was completed. People with illnesses or disabilities were often in situations of debt or severe poverty, and some did not have enough money for rent, food and bills.
After getting advice, they were able to manage their debt problems more successfully, and some were prevented from becoming homeless. Some people who needed advice about disability benefit appeals said that they would have needed in-patient psychiatric care or would have been at serious risk of suicide or self-harm without advice. One person who needed support for an appeal said advice "was a godsend".
I was struck by their desperate situations, so studied their experiences in more depth. One man with a physical health condition needed advice with an appeal. His benefits had been cut off after a work capability assessment. He said he felt "victimised" and "picked on" and was at risk of homelessness because his housing benefit had been stopped:
If it wasn't for the (advice services) I don't think I would have got through the last year, to tell you the truth.
Advisers' knowledge and experience of the benefits system helped people contest injustices in benefit assessment decisions. Advisers advocated for clients' rights, reinstating people's basic income. Some people felt that they wouldn't have been able to navigate the disability benefits system without this support. One man with mental health difficulties who didn't have enough money for gas, electricity and food, was appealing against an ESA decision, and said:
I don't know anyone else who can help me, and I don't know how to go about doing anything myself.
Advice services cuts means more pain
Free advice services have traditionally been funded by legal aid and local councils. Both have had their funding slashed by the government. Ministry of Justice figures show a 99.5% reduction in the number of people receiving state legal help in benefits cases, from 83,000 in the 2012-13 financial year to 440 in 2016-17.
Some advice centres face up to 80% cuts from local authority funds. When we were doing our research, the Citizens Advice Bureau we worked with was threatened with a 55% reduction in its local government funding. While there was a local campaign to fight this, which limited the cuts to 25%, over time the bureau has lost considerable funding – from around £900,000 a year to £500,000 a year between 2011 and 2016. Nationally, 100 Citizens Advice Bureaux branches have either closed or been lost as a result of mergers since 2009.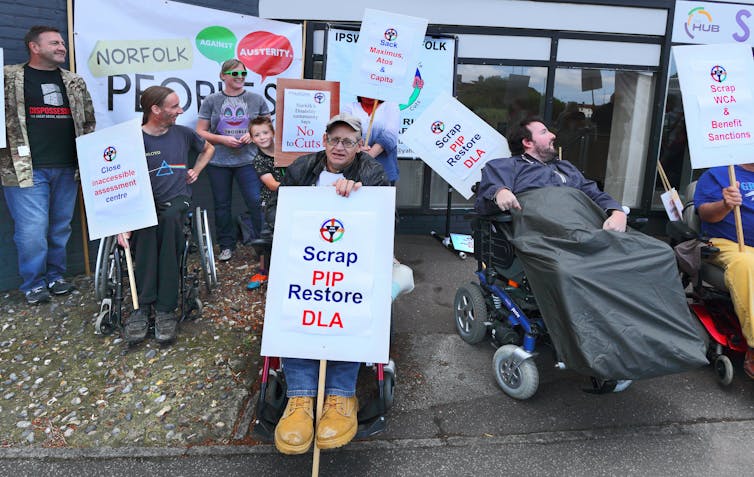 A UN inquiry into the impact of welfare policies on the rights of disabled people found that information and advice about disability benefits in the UK is limited, inaccessible or non-existent.
A dysfunctional system
Our research showed how bad decisions during health assessments for benefits can lead to severe poverty, stress, anxiety and further ill health. The impact of a wrong decision can have devastating consequences, increasing risks of homelessness, inability to pay for food, alongside worsening illness. More generally, the health and disability benefit assessment process has been independently associated with increases in suicides, self-reported mental health problems and prescriptions of antidepressants.
Central government has spent hundreds of millions of pounds defending their benefit decisions for individual claimants. Yet nationally, 71% of appeals against ESA and PIP decisions are successful. A review, announced in January, of all PIP applications could cost £3.7 billion by 2023.
Private companies that assess disability benefit applications have received increased fees, while universally missing quality targets.
Meanwhile, the government's health and disability welfare reforms have not met their aims and advice services are struggling to meet the growing demand to help people caught up in the fallout.
There is already abundant national evidence on the problems of the government's approach to disability benefit assessment. The current contracts for the companies that carry out disability benefit assessments are coming to an end in 2019-20, which provides a new opportunity to listen to people's experiences and put claimants at the heart of the system. Otherwise, more vulnerable people will be at risk, with little support.

Michelle Farr, Senior Research Associate, University of Bristol
This article is republished from The Conversation under a Creative Commons license. Read the original article.