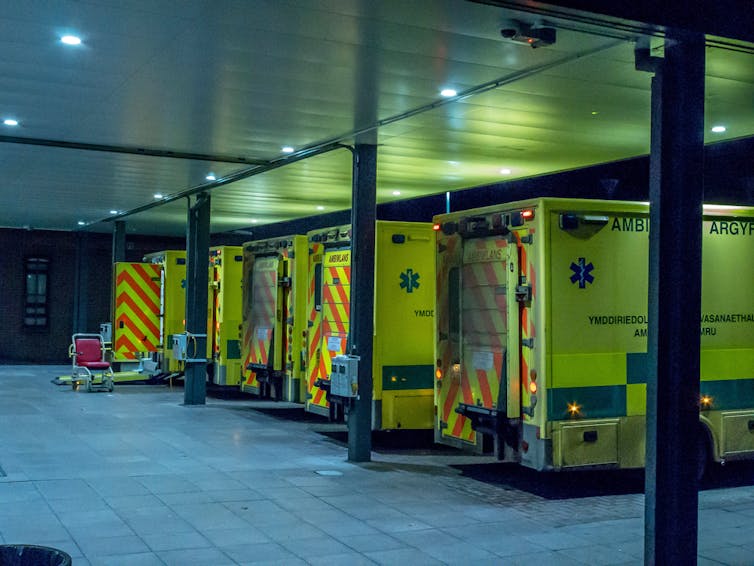 Richard Morris, University of Bristol
As winter continues, so does the usual soul searching about the state of the UK's National Health Service (NHS). Images of ambulances backing up outside emergency departments and patients lying on trolleys in corridors haunt politicians and the public alike.
Demand on the NHS, which is always high, increases over the coldest of seasons, when threats to health are greatest. Generally, more than 20,000 extra deaths occur from December to March than in any other four-month period in England and Wales. That number varies considerably, however – from 17,460 in 2013-4 to 43,850 in 2014-5 (which was not even a particularly cold winter). And there has been no evidence of a decreasing trend since the early 1990s, despite the national flu immunisation programme.
The percentage increase in deaths seen each winter in England and Wales (21% last winter) is greater than in many other European countries. Perhaps surprisingly, Scandinavia appears to fare better, while some Mediterranean countries fare worse.
Twenty years ago, the newly-elected Labour government introduced the system of winter fuel payments for those of state pension age. Then, in 2000, the national flu immunisation programme was extended to those aged over 65.
While it is disappointing that the number of excess winter deaths has not decreased since these measures were introduced, it is perhaps remarkable that the numbers have not actually increased. Excess winter deaths particularly affect people aged over 65, and the number of such people in the UK increased between 2005 and 2015 by at least 20%.
In 2015, NICE, the body which recommends which treatments should be offered by the NHS, turned its attention to the problem of excess winter deaths and illnesses. Their recommendations included a stipulation that people most vulnerable to cold weather needed to be identified.
But primary care professionals, especially GPs, have very little opportunity to visit people's homes. So we wondered if patient records would help them to predict risk in cold weather for their older patients.
Image: Pixabay
To identify those most vulnerable to cold weather, we linked regional daily temperatures to primary care data. But while it was clear that drops in temperature were generally followed by increased mortality, we could not clearly establish any single group of patients that were particularly affected – despite analysing an enormous amount of data.
We concluded that no simple method exists for GPs to identify patients most at risk when temperatures fall. So NICE's recommendation may be unrealistic, chiming with scepticism expressed by some GPs at the time. But if routine primary care records cannot help us, how do we go about identifying those most vulnerable to cold snaps?
To try and found out, we also conducted a survey of men aged between 74 and 95 of whom a minority referred to difficulties heating the home in cold weather. These men – who were also more likely to perceive themselves as experiencing financial hardship and live in social isolation – had almost three times the risk of dying in the next two years.
Our results suggest that older people themselves are able to articulate their own vulnerability – and that care agencies could make better use of their clients' own wisdom.
Communication is key
One of NICE's recommendations suggested better systems of communication between primary health care and social care teams. Perhaps they could also make better use of the voluntary sector, which holds valuable information about people's living conditions. Bristol's Centre for Sustainable Energy, for example, provides free advice on lowering energy bills, use of heating controls and installing home insulation. New systems to promote better communication between the care agencies are required, so that timely referrals can be made.
The pressures on the NHS caused by ill health in winter will require further innovations and research in communication and medicine. GPs will need more help in identifying those most at risk if we want to stop a winter health crisis from being an annual tradition.
But the search for those most vulnerable to cold weather and cold homes, fails to address the root problems. It has been shown across the world that most deaths attributable to the cold occur on days when the weather is moderately – not severely – cold. This is because moderately cold days are far more common. And where do most people take shelter on moderately cold days? In their homes.
To decrease winter mortality and morbidity dramatically, we need to improve housing and insulation – and find more efficient and economic ways of heating homes. My involvement in public health research has taught me that the greatest improvements in the health of a population are often achieved not by health care as such, but by interventions from other sectors of government. Dealing with the winter health crisis is no exception.
Progress is being made. Standards of new social housing have already improved considerably, to the extent that excess winter mortality is no worse among older people in modern social housing than in the rest of the older population.

But the private rental sector has generally fared worse – and a lack of regulation has left those on modest incomes particularly vulnerable. Improving the places where people actually live will improve their chances of surviving the winter – and help avert more seasonal crises.
Richard Morris, Professor in Medical Statistics, University of Bristol
This article was originally published on The Conversation. Read the original article.